We are a Diocesan movement in the Diocese of San Jose, California. Keep visiting our website as we continue to provide updates.
Message from our Lay Director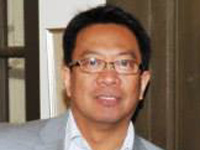 Dear Brother and Sister Cursillistas,

I thank the Lord for giving me the opportunity to serve, as the Lay Director of the  Filipino Cursillo Movement, Diocese of San Jose, from Jan 2016 to Dec 2017. May God continue to guide all of the members of the Secretariat to enable us to make wise decisions for the good of our Movement.
I welcome the new members of the Secretariat, Sis Desi Lucas, as Treasurer, Bro. Titus Raceles, as Pre-Cursillo Chair, & Bro Vince Songcayawon, as School of Leaders Chair, all serving from Jan 2016 to Dec 2017.
Together, with the help and support of the current Secretariat members, Sis Aster Pasion as Cursillo Proper Chair, Bro Ramon Santua as Post Cursillo Chair, Sis Elena Sebastian as Secretary, all serving from Jan 2015 to Dec 2016, let us pray to the Holy Spirit to give us the strength, time and good health to continue to serve our Movement.
I wish to thank our past Lay Director, Sis Flor Ramones for a job well done. Sis Flor along with the past members, Sis Pat Raceles as Treasurer, Sis Amy Matudio as Pre-Cursillo Chair, Sis Mappy De Leon as School of Leaders Chair, demonstrated their exceptional leadership, dedication and support.
I am very grateful to our Spiritual Adviser, Rev Fr. Andy Ligot for all the prayers and the continued help and guidance he has always given our Movement.
May we all continue to work together, be generous with all our time, talents and treasures and may we always promote and support the San Jose Filipino Cursillo Movement. Peace and blessings to all.
De Colores!
Sis Helen Songco
Lay Director
Filipino Cursillo Movement
Diocese of San Jose